Providing Kid-Friendly Dental Care in Richmond Hill and Oak Ridges
Experienced dentistry with a kid-friendly approach!
The best dental care for children requires patience and a kid-friendly approach. Richmond Hill parents trust us and children love us! Bamboo Dental is a family dental clinic dedicated to your children's unique dental needs.
Dr. Flor Malave and associates welcome you to our kid-friendly office where your children can become comfortable and play in our toy room — it's the little things that make a visit to the dentist that much more enjoyable for you and your kids!
📱 (905) 505-2061
📧 [email protected]
Request a


Consultation

Find out how Bamboo Dental can help you achieve your greatest smile!
Award-Winning Children's Dentist in Richmond Hill
Dr. Flor Malave of Bamboo Dental has earned a place among the Three Best Rated® Children's Dentists in Richmond Hill, showcasing her exceptional expertise in children's dentistry.
Stress Free Childrens Dental Care in Richmond Hill and Oak Ridges
Early childhood dental care is essential for the development of strong and healthy teeth. Children who learn to care for their teeth are more likely to practice good hygiene habits later in life. This pays off with fewer dental problems (and costs!).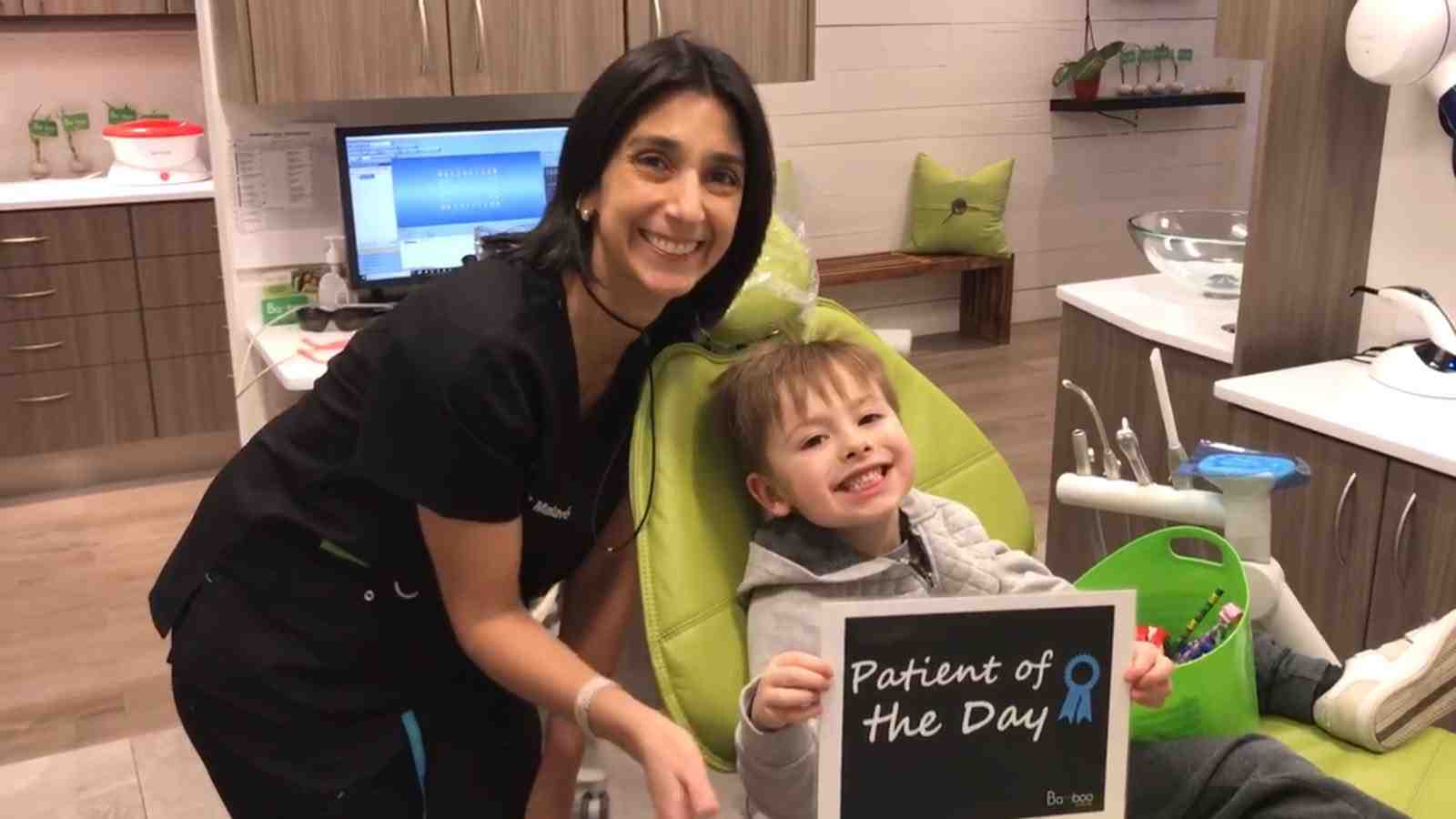 ---
Learn about Risk Factors for Tooth Decay in Children at our Richmond Hill Dental Clinic!
Research shows there are several habits during the first two years of a child's life that increase their risk for developing tooth decay. Risk factors include:
✓ Improper brushing habits
✓ Poor food choices
✓ An unbalanced diet
Developing cavities in primary teeth further increases the risk of developing them in permanent teeth. Therefore, we recommend you bring in your child for their first children's dental visit as early as six months or when their first tooth breaks through.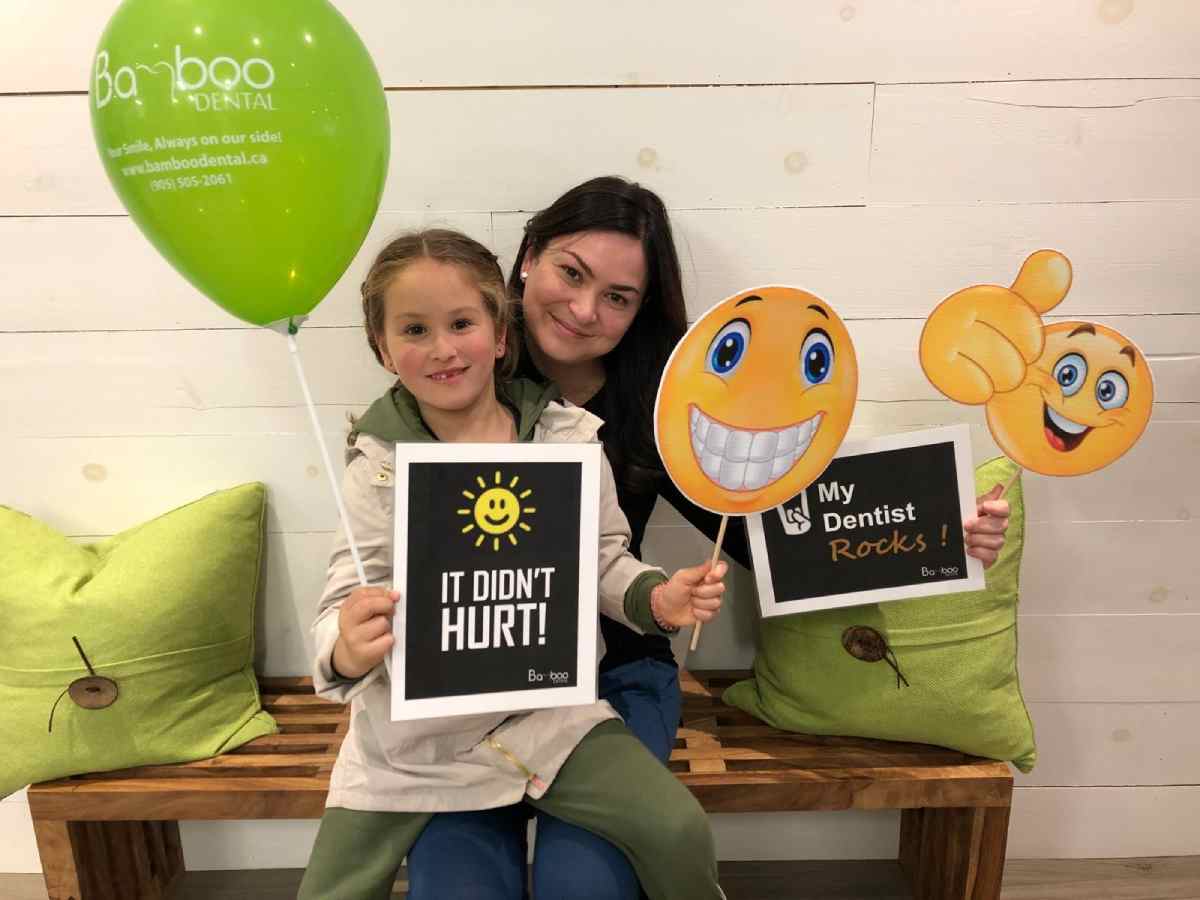 ---
Dental Services for Children
Our mission is to provide your family with the best possible dental care for kids. We offer a wide range of comprehensive children's dental care services to meet the unique needs of our young patients.
Dental Check-Ups for children at Bamboo Dental Richmond Hill and Oak Ridges
Regular dental check-ups determine the health of your child's mouth, teeth, gums, cheeks, and tongue. At each visit, we look for issues such as cavities, tooth decay, or fillings that may need to be replaced. As a result, we provide you with an ongoing assessment of your child's oral health.
We always recommend a dental check-up at least twice a year for most children. Schedules may vary depending on each child's growth pattern, risk for tooth decay, and oral hygiene.
Dental Cleanings for Children
Our children's dental care services include dental cleanings. We use gentle cleaning techniques to polish your child's teeth and remove any plaque, tartar buildup or stains. We help kids maintain a bright and healthy smile.
Home Dental Care Instruction & Nutritional Advice
Our dedicated dental team strives to promote a positive dental attitude in young patients. First, we create a supportive and pleasant environment to foster your child's lifelong dental health. Second, we always take the time to discuss the best oral practices with your child using kid-friendly communication methods. We provide home-care instruction and nutritional advice through explanation, demonstration, and careful teaching. We promise, we never lecture! Humor, patience, and fun are our greatest tools. Of course, a small prize box for our little patients doesn't hurt!
---
Frequently Asked Questions about Children's Dentistry
What does Children's Dentistry focus on?
Children's Dentistry places a strong emphasis on promoting good oral hygiene habits. Our dentists are dedicated to educating both you and your children about the best ways to achieve and maintain excellent dental health.
What topics will be covered during a Children's Dentistry consultation?
During the consultation, our dentists will discuss various aspects, including your child's diet and which foods are beneficial for dental health. They will also provide information about sealants that can help prevent cavities by keeping out food particles. Additionally, they can assess the fluoride levels in your drinking water to ensure your child receives the necessary fluoride intake. Our dentists will work with you and your child to ensure they brush and floss their teeth properly. If your child is involved in sports, we can create custom mouthguards for added tooth protection.
What age range does Children's Dentistry cover?
Children's Dentistry covers infants through to teenagers. Our dental office provides a welcoming and child-friendly environment that helps children feel comfortable, particularly if it's their first dental visit. Creating a positive dental experience early on encourages regular dental check-ups as children grow and transition into adulthood.
Does my child need a Children's Dentistry consultation?
At Bamboo Dental, we love treating children and take pride in contributing to their ongoing oral health. If you have a large family and prefer everyone to be seen in the same dental practice, we can accommodate your needs.
When should my child see a dentist?
According to the Canadian Dental Society (CDS), a child should see a dentist by their first birthday or within six months of their first tooth appearing. This recommendation differs from the common practice of waiting until around two years old, which is later than what medical and dental professionals advise.
How can I get more information or schedule an appointment?
If you have any further questions or would like to schedule an appointment, please feel free to contact us at (587) 327-9953. Our team is ready to assist you and ensure your child receives the best dental care possible.
Contact Your Bamboo dentist in Oak Ridges & Richmond Hill
Our team can help you achieve great smile results with faster treatment times and comfortable methods. We look forward to seeing you soon!